About us
Quasar is a specialized company in Digital Marketing. It always led by a passion for creating a quasar in the sky of marketing and innovation. Our uniqueness is the power with which we operate.
Vision
To be an obvious option for every organization that aspires to creative solutions in the content creation industry and digital marketing.
Mission
We merge imagination with marketing in the creative industry to enable brands grow and be digitally effective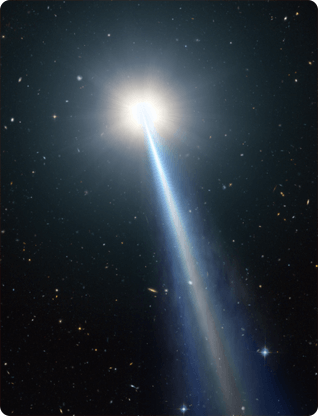 What is a Quasar?
In 1963, a star-like in its brilliance, the astronomical object was discovered. It is on the edge of the universe, billions of light-years away from earth. It has a brightness that exceeds sunlight million times and possesses unexpired renewable energy and bright light that never goes out.
His appearance among the stars and other astronomical objects captures the lights of those around him to shine alone in astronomy, which made us adopt the name Quasar, after the qualities of this charming being.
Our Services
Content Creation
We create content in all its fields, in a different and creative language to express the identity of your organization.
Social Media Management
We enhance the business's interaction with its audiences, to aware consumers about the brand and ensure ease of access.
Branding
converting your project from an idea into a visual image. It helps to be always connected in people's minds.
Information Technology
We guarantee your organization is digitally effective through developing websites and mobile applications.
Ad campaigns
In Quasar, we plan advertising campaigns and create concept and content based on the desired goals. Then, we measure their impact.
Digital Marketing
We help you to optimize search engines to increase your website's visibility via SEO and PPC
Statistics
75%

Of marketing costs spent on digital marketing

62%

Content marketing costs 62% less than traditional marketing and achieves three times more than traditional marketing

81%

Of phone owners are looking for online services and products before buying

84%

Of consumers think they'll find brands online.

1 Trillion

Of users and more use social networks to search for new products and brands
Digital Marketing
Digital Marketing

Present
The shift of Marketing that accrue during the past two years equals the total changes of 50 years

Reported Adobe Company, 2016

The shift of Marketing that accrue during the past two years equals the total changes of 50 years

Reported Adobe Company, 2016
Our Values
Excellence
We have made it our first approach and our established value since it reflects the concept of doing the work to the fullest.
Authenticity
We took it upon ourselves of being authentic and bold in what we do, independently and uniquely in creativity.
Joy
Life deserves to rejoice it. Let's celebrate our successes
Ecofriendly
We make sure that our purchases are environmentally friendly. We plant also a tree on behalf of clients to share the virtue of achieving this noble mission.